THE PIZZA HUT COMMERCIAL
(featuring Ringo Starr)
---
Here's a transcript of the commercial apperance The Monkees made with Ringo Starr for Pizza Hut Stuffed Crust Pizza!
Source: "News & Bits," Monkee Business Fanzine no. 74, September 1995
Snaps courtesy of Brad Waddell of The Monkees Home Page fame
---
DJ - David Jones
MD - Micky Dolenz
PT - Peter Tork
RS - Ringo Starr
---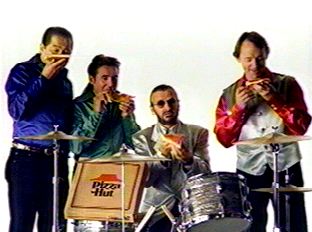 0:30
[Ringo stands in a field with a cow.]
RS: I'd do it in a second.
[Ringo in a rowboat.]
RS: The fans'll dig it!
[Ringo sitting in an empty theatre.]
RS: They've waited long enough.
[Ringo sitting behind a drum on an empty stage.]
RS: I've just got to get the other lads to agree.
[Ringo talks to an old fisherman.]
RS: I think I can convince them.
[Ringo shouting from high above the city.]
RS: I'll say, "Lads! The time has come..."
[Ringo behind drums, clutching a slice of Stuffed Crust Pizza.]
RS: "...to eat our pizza CRUST FIRST!!"
[Ringo turns the slice around to take a bite out of the crust as the "(theme from) THE MONKEES" starts playing in the background and the shot widens to show Micky, David and Peter joining Ringo onstage, scarfing down slices of SCP.]
DJ: Great idea, Ringo!
MD: Cool!
[Shot of pizza.]
Announcer: Stuffed Crust Pizza from Pizza Hut. With cheese baked into a new thinner crust, you'll want to eat it crust first! Now with free garlic dipping sauce.
[Screen divided into 4 different sections to show each of the four guys in closeup. Micky, Peter and David are enthusiastically munching away on their Stuffed Crust Pizza, but Ringo looks on in astonishment, puzzled as to how on earth he unwittingly managed to reunite The Monkees instead of The Beatles!]
RS: Wrong lads!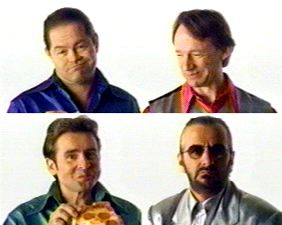 ---
Go Back!