ONSCREEN CAPTIONS OF THE MONKEES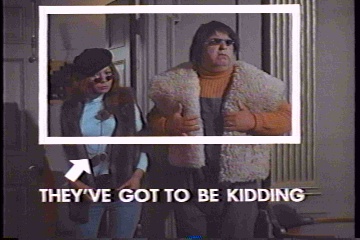 ---
"The Royal Flush"
EVERYBODY DOES IT
WE CAN'T GO ON MEETING LIKE THIS.
IT ALWAYS WORKED FOR ERROLL FLYNN
"Monkee See, Monkee Die"
DID GENERAL SARNOFF REALLY START LIKE THIS?
FAST FAST FAST RELIEF
"Monkee Versus Machine"
THE FACE OF A GENIUS?
CAN YOU BELIEVE THIS?
POSSESSIVE MOTHER
SEND THIS BOY TO CAMP!
YOU CAN'T FOOL A MONKEE!
"Your Friendly Neighborhood Kidnappers"
FIRST TOPLESS CUSTOMER?
CASSIUS CLAY WATCH OUT
6:40 CENTRAL TIME
"The Spy Who Came In From The Cool"
THEY'VE GOT TO BE KIDDING
C.I.S. HEADQUARTERS
MICKY'S RESPONSE
SOMEWHERE IN CHINA
"The Success Story"
THAT LADY WAS A LADY!
"The Monkees In A Ghost Town"
STAY TUNED FOR MICKY'S IDEA
STAY TUNED FOR MICKY'S NEXT IDEA
BESSIE WHO?
"The Chaperone"
OUR PRODUCER
"Here Come The Monkees"
(Original Pilot Film)
AND NOW ON WITH OUR STORY
BUT INSIDE, ALL IS NOT WELL
A TYPICAL TEENAGER?
NO, A FRIEND OF THE PRODUCER!
SUDDENLY, TROUBLE LOOMS
"The Monkees In Texas"
EMMY CONSIDERATION
"The Monkees Race Again" (a.k.a. "Leave The Driving To Us")
WORLD'S OLDEST FLOWER CHILD
"The Monkees Mind Their Manor"
IN THE STICKS CALL HAYSEED 7-4000
"Mijacogeo" (a.k.a. "The Frodis Caper")
FREEZE FRAME PROP
TYPICAL MONKEE ROMP
---
GO BACK!